Locerin
A natural choice for beautiful and long hair
protects against hair loss 1
effectively supports hair growth 1
hair becomes clearly healthier 2
strengthens the structure and hair color 3
Locerin is a product for you, if:
Your hair is weakened and in need of regeneration,
you want to accelerate hair growth in a natural way,
you have split ends,
your hair lacks shine,
you have problems with styling.
Worldwide Shipping Available
Description
Proper hair
care can be quite a problem for many women. Drugstores offer a wide range of cosmetics, shampoos and conditioners that promise to improve the appearance and health of your hair. Poorly selected products in combination with external factors such as hard water, daily drying and styling can leave your hair in a dreadful condition.
Locerin – an advanced dietary supplement is coming to the rescue, which thanks to the richest composition on the market effectively supports the health and appearance of hair from the inside. It is an excellent choice for women who want to naturally help hair grow, improve its appearance and prevent it from falling out. The complex of 16 active ingredients guarantees visible improvement in the appearance of the hair in just a few weeks of use!
AnaGain™ Nu – science and nature for the sake of your hair
Mechanism of action
AnaGain™ Nu was created using a method developed on the basis of DNA microarray technology. AnaGain™ Nu stimulates specific signaling molecules in the dermal papilla cells that are required to initiate the growth of new hair:
Noggin – a protein that shortens the telogen phase of the hair.
FGF7 – promotes the proliferation of keratinocytes at the beginning of the new anagen phase.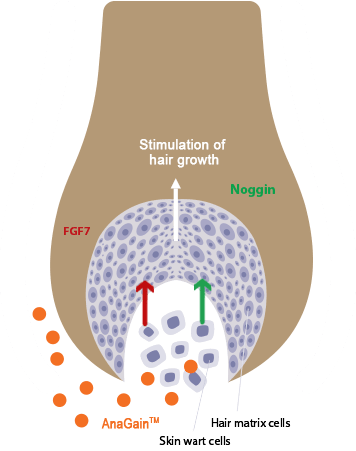 Effectiveness confirmed by research
Gene expression analysis was performed in hair follicles after a two-week treatment of 2% AnaGain™ Nu. The test results showed an increase in Noggin level by 56% and FGF7 by 85%. These results demonstrate that AnaGain™ Nu stimulates the dermal papilla to induce new hair growth.
Average change in expression level in %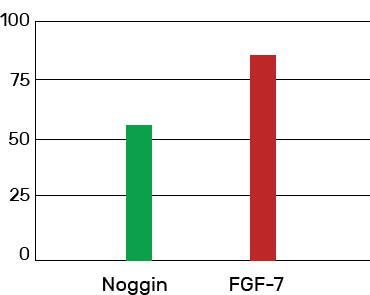 The influence of AnaGain™ Nu on hair loss has been studied on a group of 21 volunteers suffering from a mild to moderate degree of hair loss. For 2 months, volunteers took 100 mg of AnaGain™ Nu a day in a beverage of their choice. The level of hair loss was assessed at the beginning of the study, after one month and after 2 months of taking the supplement.
AnaGain™ Nu showed a statistically significant reduction in hair loss after 1 month (34%) and after 2 months (37%)
visual improvement of hair density
85% of volunteers noticed reduced hair loss and 76% declared willingness to continue therapy
Evaluation of the average number of lost hair